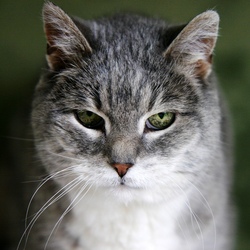 Name:
Lostleg
Age:
25 moons
Gender:
Tom
Rank:
Elder
Clan:
ShadowClan
Color/Description:
Blueish gray tom with darker gray/blue stripes. These stripes are narrow and thin, like the many paths in the forest. Some places they cut off, and they entwine several places, and he seems to be a cross between a mackrel tabby and a normal tabby. Or so it seems by his markings. His eyes are a hollow green, that seems to be on the edge of being olive. His whiskers are incredibly long, and his name used to be Longwhiskers when he was a young warrior, and before he ended up in his little accident.
He's not the prettiest cat to look at, especially since one of his legs now hangs limply from his body and trails the ground when he walks. He's become rather hunched and he doesn't seem to care about his pelt any more, which is clearly uncombed. Although by what is said by the other elders, he used to be the brave and bold warrior that went running into danger at first call. When properly fed and nourished, his hollow face can appear quite handsome though.
Personality:
Unusually cranky. He seems to blame everyone around him for the loss of his leg, and snaps at even the kindest warrior. His hatred for everyone is evident, and he can hardly be talked into anything at all. He's just there to make the lives of the poor apprentices forced to clean the elders den as bitter as possible. Seemingly sadistic and with a sarcastic tone in almost every word he says.
Rarely smiles, although does have a tendency to say things that can make cats laugh. This usually happens without his knowledge though, and without him really knowing what is actually so funny with the entire event.
Crush:
None
Mate:
Used to have
Kits:
None
Family/History:
A rather tradgic story for a tradgic cat. He was born into ShadowClan, grew up to become Longwhiskers, the bold warrior with no fear at heart. Although one cruel day he ran into a fox trap, and his right hind paw was clamped shut in it. His clanmates did everything they could to get him loose, although it was evident by the horrid way his leg was bleeding, and by the fact that he couldn't feel any pain by the time they got to the medicine cat den that his foot would never function again.
The love of his life, Honeyripple, who had said yes to be his mate right before he left with the patrol that would become his last, decided that she didn't want a cat with a crippled leg and left with Lostleg's brother instead.
After this, and once his name had been changed to better represent his looks, he became less filled with life and joy, and so became the bitter, angry tom that everyone know of. His tales are hardly told in the clans any longer, which he's grateful of. The story of his downfall bothers him, and whenever a kit asks him for a story he'll snap right back at their face and tell them to go sleep with their snotty siblings. When Honeyripple died at the hands of a fox trap, only a week due with his brother's kits, he felt sadistically happy about it and went ahead saying what kind of horrible she-cat she'd been, leading his brother to the same, hateful state of mind.
Name:
Burntstar
Age:
38 moons
Gender:
Tom
Rank:
Leader
Clan:
ShadowClan
Color/Description:
Burntstar is a smoky black tom, meaning that his undercoat is silverish while he's got a black cover that makes most of him black. He's pretty long furred, and he's extremely bushy and spiked up at all times. As a kit he used to look like a big lump of fur, and was named Thistlekit because of his characteristic spiked pelt. As a warrior he got the tips of his whiskers burned off in an accident and got the name "Burntwhisker". His whiskers are blackened, and not as long as they should have been.
In size, he can be regarded as about the normal height for a tom. His shoulders aren't particularly broad, and he uses his size and weight to his advantage by making up for it in speed and agility.
Personality:
This tom isn't like most leaders. At all. Instead of being chosen for a kind and wise personality, the former leader picked him because of his extreme skill at hunting and, most importantly, because he happened to be his son. Burntstar was kind of born into the role, and somehow his father planned Burnstar's leadership.
The dark cat is unsymphatetic to his opponents, and won't hesitate to kill or attack any cat that may come in his path. His agression is what makes him a really dangerous cat, and also a very frightening leader. Ambitions of claiming more territory for his clan aren't unfamiliar, and he'd probably do anything to claim the position as one of the greatest leader of all time. As any leader he's interested in the younger generation, and takes much interest in his apprentice Lonerpaw, who is about the only cat he won't disagree with at the moment.
Crush:
None
Mate:
None
Kits:
None
Family/History:
Was first named Thistlekit because of his spiky fur, although got into an accident as a young warrior. There happened to be camping twolegs by the ShadowClan border, and curious as he was he snuck up to them. Then he found a lit candle, and because of his nonexistent experience with fire he didn't pull back before his whiskers were set on fire. The tom quickly put out the fire before it could do any more damage, although his whiskers remained burned and damaged.
Burntstar was born as the second son in his litter of four, although it was a cold leafbare and both his siblings and mother died of greencough. That's when his father, the former leader of ShadowClan, tipped right over the edge. The former leader became obessed with his son, and did everything to preserve every single hair on his son's precious pelt. As Burntwhisker became old enough, he was chosen to be deputy. A moon later Burntwhisker's dad died, and Burntwhisker took on the name Burntstar and became the leader of ShadowClan.
However, his position isn't based on how heroic and awesome he's been. Through his apprentice days he used to be a complete bully, and he always looked down on other cats, no matter who they were. Even his father couldn't dodge his son's fierce anger. In the end, as the two walked by the Thunderpath together, the two of them clashed in a fight. The older tom ran for it, and was hit by a monster. Thus making Burntstar partly involved in his father's death.