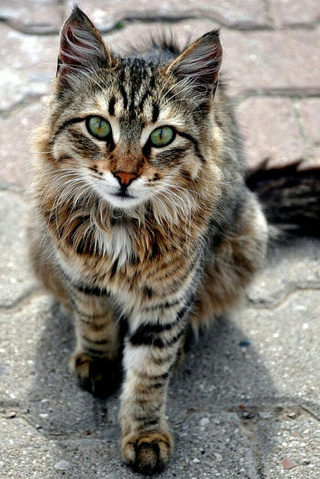 Name-
Sandstreak
Age-
21 moons
Gender-
She cat
Rank-
Warrior
Clan-
Riverclan
Color/Description-
Sandstreak is a young, sleek she-cat. Her fur is medium in length and very soft. It is many different shades of brown in a stripe-like pattern. Her right paw is brown, and her eyes are a very dark emerald color. Her tail is long as well as her legs. Her face is sharp and stunning, making her look a bit older than she actually is.
Personality-
Sandstreak is feisty. She sometimes can harbor a boiling temper and other times be kind and gentle. She really is a wild card. She isn't afraid to speak her mind and is sometimes very wise. Other times she can be quite a mouse brain. 
Crush-
None
Mate-
None...yet
Kits-
none
Family/History-
Blooodstreak her former mentor, lost his mate Silversnow in childbirth. Silversnow was very kind to Sandsreak and she had only happy memories with the she-cat. Bloodstreak soon became crazy and left camp. leaving the infants to her and the other queens. Sandstreak had a friend, Basspaw when she was an apprentice, who she eventually fell in love with, but he injured himself and (dissappeared). Sandstreak has been thriving the past few moons, working hard for the clan she loves.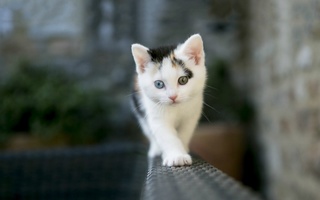 Name-
Ashpaw
Age-
11 Moons
Gender-
She cat
Rank-
Apprentice
Clan-
Riverclan
Color/Description-
Ashpaw is a white calico with black and orange on her back/head. She has one bright blue eye and one forest green eye. Her nose is pink with a black dot right in the middle.
Personality-
Ashpaw is bright and fastlearning. She absolutely loves pleasing her elders and higher-ups. She gets along very well with almost everyone she meets. Ashpaw loves going out on her own and just adventuring, though she has been warned many times not to go out alone too often.
Crush-
none
Mate-
none
Kits-
none
Family/History-
Her mother was Silversnow, who died during birthing, and her father is
bloodstreak, who disappeared without saying too much. She met him once when he came back to camp. The meeting left her feeling very conflicted. Her Brother is nightpaw She was raised by Sandstreak, and the other
queens.
Name-
Hawkpaw
Age-
6 moons
Gender-
Female
Rank-
Medcat apprentice
Clan-
Riverclan
Color/Description-
Hawkpaw is a noticeably small cat, even for being an apprentice. She has white/grey fur with contrasting black marks all down her back and legs. Her fur is pretty long, which is good for winter, and hot in the summer. It also becomes quite matted easily so she has to take special care in grooming. Her back left leg has been crippled since birth and she has adapted to it quite quickly, and makes use with what she has.
Personality-
Hawkpaw is quiet and respectful to everyone in her clan. She hasn't had the chance to meet anyone from outside, but she hopes she can go to a fourtrees gathering soon since she is now an apprentice. She knows that she can never be a real warrior with her disability, but she hopes to be as helpful to the clan as possible since she now gets to learn medicine. She also hopes to at least learn to hunt. She hopes she can.
Crush-
NA
Mate-
NA
Kits-
NA
Relationships-
Hawkpaw was accepted into the clan as a stranger. Her mom was named Sky and she knew of a friend in Riverclan who would take Hawk (at the time) in. She had known the leader and hoped that in her final days, he would accept her daughter into his clan, which he did graciously. Her father is unknown and all of her siblings died shortly after their birth since Sky was so sick.  
History-
Mint grew up in rouge territory with her mother, who was incredibly ill from the time she was born. Sky died and sent Mint off on a quest to go find Riverclan and tell them Sky sent her. Surely they wouldn't turn away a kit.